Bra Sizing, Fit and Styles For Your Body
Posted by LOTUS TRIBE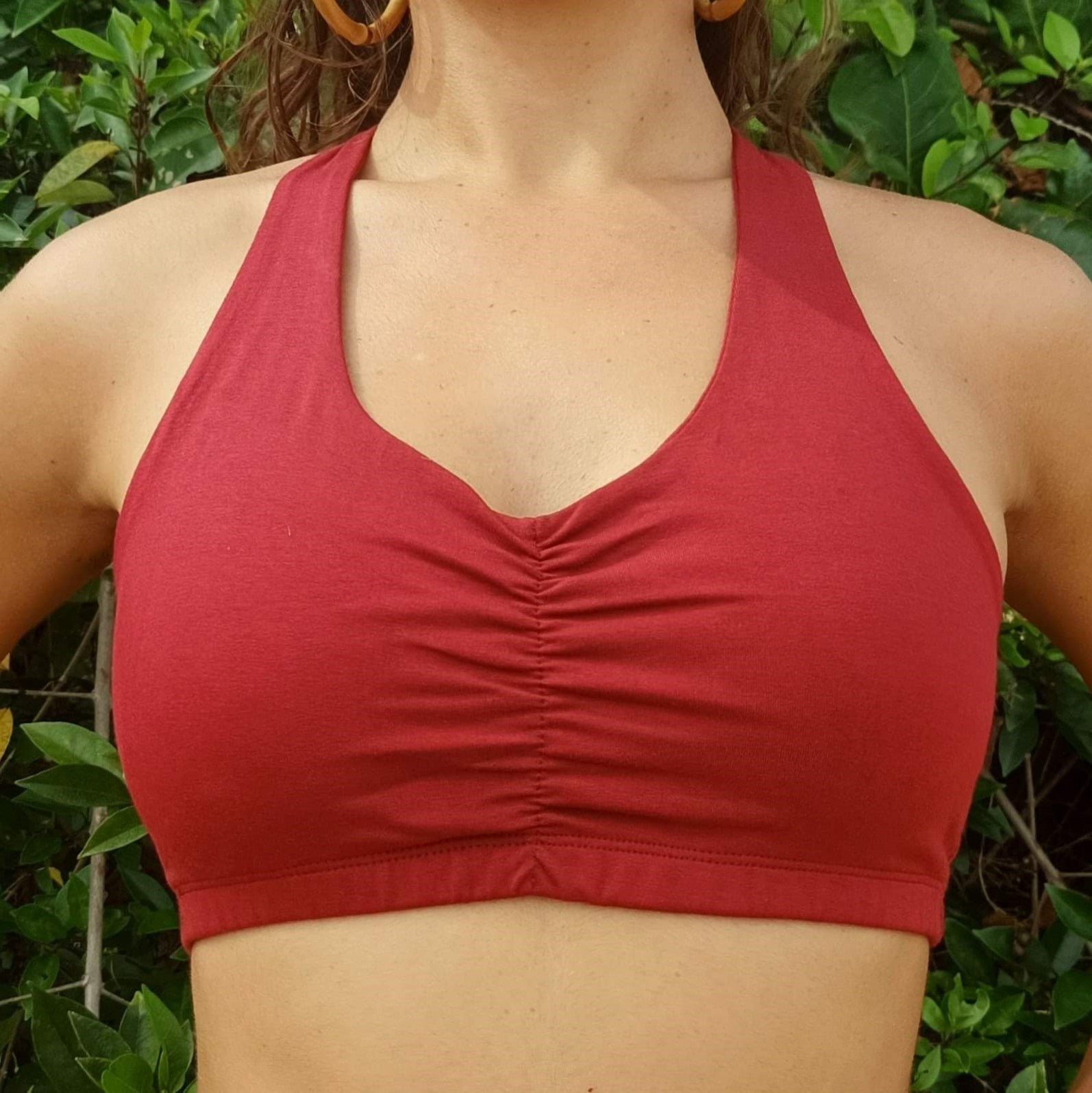 Do you wish you could easily find a well fitting and comfortable bra? Yearning for a style that doesn't slip or pinch? Finding the right bra can be one of the most difficult, and often unpleasant, shopping experiences there is. We're here to help!
As a small, independent yoga clothing brand, we started out selling Sports Bras and we quickly found that sizing is all over the place. Plus, no two styles or brands fit the same way. Add that to the fact that most women do not know their true bra size (and are wearing the wrong bra size) and bra shopping becomes a nightmare.  
If you've ever wondered what size bra you should be wearing, this blog is for you! If you desire the best fitting, most comfortable bra style for your specific body shape and size, this blog is for you! Even if you have had a professional bra fitting in the past, this blog is for you. We all fluctuate in our sizing, so it is best to know how to figure out which bra is best for yourself. 
Let's talk about how to find your bra size:
First, you will need a soft measuring tape. Our recommendations are for traditional U.S bra sizing. For international customers, please use these guidelines when shopping with us. 
Step One is to measure your underband. To do this, wrap the measuring tape around your ribs, directly below your breasts. You may want to measure yourself while nude for this step. Be sure the tape measure is level to the ground, in a straight line and snug, but not too tight. You may need to ask a friend for help, or use a mirror, to be sure the tape is in the right place. 
This number, in inches, is your bra size. In traditional bra sizing, we round up to the nearest even number. So, if you measure 33" around your underband, you would wear size 34. 
Now let's figure our your cup size:
Next, you need to measure around your bust line, at the fullest spot. We suggest that you measure yourself while wearing a thin, unpadded bra for this step. This is in case the girls tend to sag a bit. This will cradle your breasts in the same shape that they will be when you're wearing your new bra. 
Again, make sure that the tape measure is in a straight line, level to the ground. Wrap it gently around your breasts, not too tight. If you are wearing a bra, be sure that the buckle or underwires are not adding to the measurement. 
Once you have this number, in inches, you need to subtract the underband measurement from it to get your cup size. Each inch that your bust is bigger than your underbust equates to one letter. If your bust is one inch bigger than your underbust, you are an A cup. Two inches bigger is a B cup, three inches a C cup and 4 inches a D cup. 
For example, if your bust measures 38" and your underbust is 34", your cup size would be a D cup. Your full, true bra size would be a 34D. Likewise, if you have a 33" underbust and a 36" bust, you would wear a 34C. 
The problem with traditional bra sizing:
The fashion industry tends to cater to the biggest market. So, if you are quite petite in the torso or quite large in the bust, there isn't much offered from big corporate brands. This is part of the reason that most people are wearing the wrong size bra. 
Take a size 28 or 30 underband for example, when you can not find that size, you are forced to purchase a size 32. This upsizing means that the band is too loose and the bra can't offer the support that you need and the cup sizing is off as well. We have had countless customers tell us that they always wear a 32B, when their true bra size is a 30D. This makes sense because they upsized their underband by 2" and downsized their cup by 2". So, although they can wear the 32B, it doesn't fit well or offer the proper support. 
When someone's bust is greater than 4" bigger than their underbust, sizing gets confusing as well. Some brands will use size DD, or DDD, while others choose to use E and F, for the same measurements. Once you get into an E, F or G cup size, there is very little available in the marketplace for you. Most people will have to size up the underband, to fit a bigger cup size. 
Suppose your true bra size is a 36DDD, or 36F; you may find that size 38D fits you well enough. Again, this upsizing of the underband affects the cup sizing. Although you can wear this size, it is not going to be as comfortable, or fit as well as a bra that was made for you. It may seem to fit, but it will slip and be uncomfortable, making you want to take it off the moment you get home. 
How can Lotus Tribe help?
We here at Lotus Tribe Clothing want everyone to have a well fitting bra! Although not every style will fit every person, we do have a style that will work for every body.
Some of our styles are better for smaller boobs, while others are better for the biggest cup sizes. Some have strong support and underbands, while others are a soft fit, without any added underband elasticity. Some have thicker straps, great for movement and exercise, and others have thinner straps, that work well for layering under tanks and dresses. Whatever your needs are, we have something perfect for you. 
Sizing is based on your underband measurement. Each style is specific to the cup sizes it is best for. 
Styles for smaller boobs- Our Trinity and Zen Bras are perfect for A-C cups. The Zen can fit a D cup, if you go up one size. 
Styles for the bigger cups sizes- Our Shakti and Sunburst Sports Bras fit the biggest cup sizes. The Shakti fits everyone from an A cup to a DD cup with all the support you could want. The Sunburst is suggested for a minimum of a D cup and fits best for DD-G cup sizes. 
Styles with a soft fit- Our Bliss Bralette and Trinity Bra have no added underband elastic, providing the softest fit against your body. The Bliss Bralette has adjustable spaghetti straps and flattering puckering between the breasts, making it a perfect everyday bra, great for layering under your favorite sundress, tshirt or tank top. 
Styles for movement- Our Baru and Shakti Sports Bras have the most support and will keep the girls in place, even during inversions like downward facing dog. 
Styles with exciting back straps- The Baru, Trinity, Shakti and Sunburst styles all have beautiful striking back strap patterns, making them great for festivals and as tops in the summer. 
What makes Lotus Tribe bras different
Our first commitment is to be as soft on the Earth as we are on your skin. For this reason, we make all of our bras with natural, breathable cotton fabric. We use a soft stretchy blend of 90% cotton, with 10% spandex, for just the right amount of stretch. We cut and sew every piece of fabric by hand, infusing the item with love and good energy. This is a distinct difference from traditional bras that are  mass produced and made with synthetic fabrics, often in sweatshops. You can honestly feel the difference of having a natural fiber bra, made with loving care, against your skin.
We include the little details that make all the difference. Our bras come with a double layer of fabric over the breast area, for the best nipple coverage. We do not add any padding or lining, but we have updated our patterns, so that there is a pocket between the two layers. This means that you can add your own liner, if you wish. We believe that the human body is beautiful in its natural state, so none of our styles come with an underwire or other features that would change your natural shape. 
We add a small lotus flower embroidery to each bra, as way of including a symbol of beauty, strength and love, to remind you that you too can overcome adversity and bloom beautifully. Think of it as a love note to yourself each time you see it. 
We also offer personalized customer support. Simply reach out to us with your measurements and we are happy to make suggestions on which would be the best style and size for your body and needs. You can email us at lotustribeclothing@gmail.com or use the Contact Us form here.
Which Style Should You Pick
Our classic Baru Sports Bra style is perfect for yoga, movement and exercise. With criss cross back straps, it's a favorite that is as popular as ever. The Baru style has the support needed for movement and things like inversions. The Baru fits cup sizes A-D nicely and is available in many solid and tie dye color options. 
Our Trinity Bra fits A-C cup sizes. It includes three horizontal straps, that go across your back, creating a lovely pattern. With no added underband elastic, it has a super soft fit, with light support. Don't bother trying to squeeze a D cup into this style, you will either spill out the top, or slip out the bottom. It's just not made for the bigger cup sizes. 
Our Shakti Sports Bra has become one of our customers' favorites, due to its easy fit and distinct appearance. The backstrap pattern makes it striking to look at and functional to wear. It fits A-DD cup sizes, with both comfort and support. It is available in solids and tie dyes. 
Our Zen Sports Bra fits A-C cup sizes best. You can wear it with a D cup, but please order one size bigger than suggested for coverage. This style has a nice underband that provides a reasonable amount of support. This is a minimalist design, with adjustable spaghetti straps, that you can wear under sundresses and tank tops. No fancy back strap pattern, just a great everyday bra.
Our Sunburst Sports Bra is a specialty item, created specifically for the biggest cup sizes. We suggest a minimum of a D cup for this style, but it's best for DD-G cups. For those of you who have the biggest breasts, this is the bra for you! It was designed with full coverage, strong underband support and wide straps. The Sunburst comes in Onyx, Lavender, Sage and Sand. We promise to add more colors in the future. 
Our Bliss Bralette fits A-D cups with a flattering fit.  With no added underband elastic, it has a super soft fit. The Bliss Bralette is one of the most comfortable bras ever made! It has adjustable spaghetti straps and center puckering between the breasts, making it one of our most flattering and best selling styles ever. We recommend going up one size for a D cup, or trying our Blissed Out Crop Top instead. The Blissed Out Crop Top is the same design as our Bliss Bralette, but with a longer fit for your torso. This extra fabric provides additional support for those with D or DD cups sizes. 
Our Bandeau fits a more petite body, with smaller cup sizes. Available in one size only, we suggest a 30/32 underband and an A/B cup. We designed it with thicker organic cotton fabric, a single layer over the breasts and a center pucker for a flattering design. Due to fabric sourcing issues, we currently do not have any more in production, so what we have is limited to stock on hand. 
Final Thoughts
Knowing your traditional bra size is helpful, even when shopping for Sports Bras, and especially when shopping online. Not all mediums are created equal! Having the right size is step one in finding the right fit. Then choosing the style that best suits your needs and your body's shape will help. Lotus Tribe Clothing strives to offer a style for every body. 
We use natural, breathable fabrics when we lovingly create flattering and comfortable styles. You will feel your best when wearing an Earth friendly and ethically made garment. We offer superior customer service, if you have any questions or concerns, just reach out to us and we will help you find the best bra for your needs. 
Upon receiving your Lotus Tribe bra, it should feel comfortable the first time you try it on. Do not hope it will stretch with wear or shrink in the wash. If it doesn't feel comfortable right away, we offer a generous Return Policy, making online shopping easy and stress free. 
Wishing you all have nothing but comfortable bras in your life! You can give us a try and shop all of our gorgeous bra styles here.