Summer Sarong Style
Posted by LOTUS TRIBE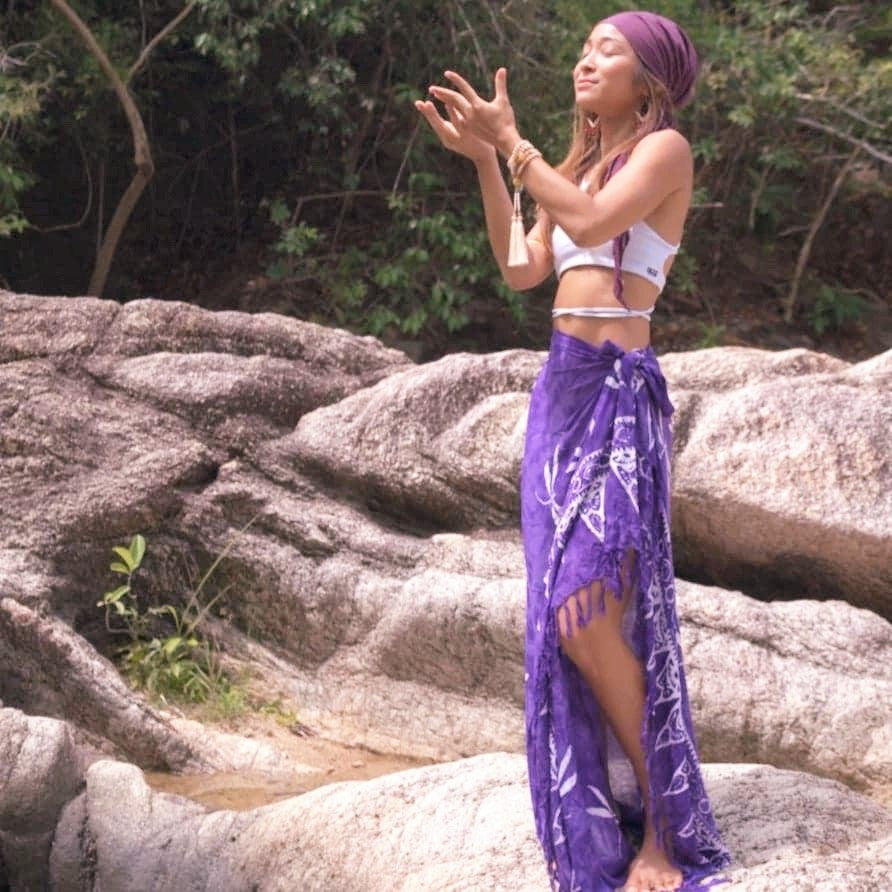 Upon first glance, a Sarong may look like just a simple piece of cloth, but they are truly ubiquitous in their use. Most often used as a wrap around skirt or a beach cover up; they also work as a scarf, a dress, a towel, a baby carrier, or even as home décor. Once you have one in your life, you won't know how you ever got by without one. They are the ultimate fashion accessory.
Where Did Sarongs Come From?
Traditionally found in many cultures, the sarong is worn in all places that span the Indian Ocean. From the shores of Sri Lanka and the Indian subcontinent, to Africa, across Asia and many Pacific Islands; they are practically universal. The sarong became a shared heritage with many offshoots. These rectangular swaths of fabric were worn in a variety of different ways, typically wrapped around the waist, by both men and women.
You might wonder why this is the go-to garment of choice? These locations all have hot and humid climates where wearing loose fitting flowy fabric is the most comfortable option. Over time, they imbued their heritage into each unique pattern.
My first personal exposure to sarongs were the batik sarongs from Indonesia. The classic, time-honored custom of handmade Batik sarongs is part of traditional Balinese and Indonesian culture. Bali is but one of the thousands of islands in the country of Indonesia. 
Sarongs are a unisex piece of clothing; Balinese men, women and children wear them in their everyday lives and they are required for attending the many ceremonies that are observed in their Hindu culture. In Bali, sarongs are mandatory to enter any temple for locals and tourists alike. They come in a wide range of colors, patterns and fabrics, but the Batik process is the most traditional and recognizable. Unfortunately, with the advent of widespread tourism and the lure of easy manufacturing, mass production of sarongs using printing instead of the batik process has become common. This change in manufacturing has resulted in the loss of a traditional art form passed down from generation to generation. 
How Are Batik Sarongs Made?
The batik process, also known as wax resist dyeing, is an ancient art form using wax and dye to create the designs. You start with plain white fabric and "paint" on liquified wax wherever you want the white to stay. Then you put the fabric into a dye bath. Wherever there is wax, no dye will stain. You can do this numerous times, starting with lighter colors and ending with the darker colors. Once the process is complete, the wax must be removed. It is slow and quite labor intensive, yet a time honored process. 
Batik Sarongs and Lotus Tribe
We, at Lotus Tribe, did not want this beautiful art form to disappear. Globalization has lead to many indigenous cultures abandoning their past and it would be a shame to lose Balinese Sarongs to fast fashion. As a brand, we choose to use our platform to create the world we want to live in. We believe that every culture should be preserved and all art forms saved and cherished. Homogeny of the world would be so boring! So, we found some artisans and asked them to create a line of sarongs for us. We could not be more proud that we are helping to keep this ancient art form alive on the island of Bali. 
So far, we have created blue, green and purple tie dye backgrounds, each with a white dragonfly pattern. These are 100% natural rayon, with fringed trim on two ends. They really are beautiful, if we do say so ourselves. 
Ways And Styles To Wear A Sarong
Now that you know how they are made, why they are amazing, and where to get them (shop Lotus Tribe Sarongs), you probably want to know how to wear one...
You can fold the sarong in half with the fringe at the bottom, wrap around your waist and tie on the side. Easy-peasy and looks perfect over a swim suit, with a bit of leg showing when you walk. 
You can also open them up to full length and wrap them around you for complete leg coverage. This will fit any size and with the fringe along the side, instead of the bottom, it still looks like the perfect wrap skirt. Tie the ends or just tuck them in, the fabric will hold in place. 
Both of these wrap skirt styles can be folded to the desired length, whether you are shorter in height or just prefer more of a mini skirt style. They can be adjusted to your body, and will look both fit and gorgeous. 
Or, you can wear them as a dress, yes really, and it is complimentary too! Start by holding it with the ends in each hand, with the fabric behind you. Bring the two ends to the front of your body, essentially wrapping yourself in the fabric.
At this point, there are a couple ways you can tie it. You can tie it in the front, with the fringe going down the middle, or you can overlap it and roll the top to keep it in place. You can also overlap the two ends and tie them around your neck, this is my favorite way to wear a sarong. Try twisting the ends if they're a bit long on you. 
Of course, it looks amazing a shawl or a scarf too. It really spices up any outfit with a splash of color and some pizazz. 
Once you start using your sarong for clothing, it will become a staple in your wardrobe and your life. Take it to the beach and sit on it like a blanket. Use it as towel after swimming. Wrap your wet hair up in it. Use it as a baby sling carrier. Decorate your home. The uses are truly endless. 
Get creative with it, play with it, wrap it around you, tie it up and see what you can do. Make it a vest, see if you can figure out how to turn it into a jumpsuit, or watch this video for more creative ideas here. Fashion should be fun, dress appropriately.
Final Thoughts
Thanks for taking the time to learn about this piece of historical fashion. Join us in appreciating this old school wrap and look good in our ethically sourced Batik Sarongs. Hand made works of art that are both functional and flattering. In stock now and ready to ship. If you want a complete outfit, all of our sarongs pair beautifully with our Snow Tops. We have the Goddess Top, Baru Bra, Shakti Bra, Trinity Bra, and Hoody Ninja Vest that will each help create the perfect summer style. 
With love and light, 
Lotus Tribe